Hello all!
Welcome to the end of August! This month seems to have flown by, but I've still managed to get a lot of reading done. This month I managed to start and finish 8 books, whilst also starting and reading half of one, and finishing another that I started in July. Without further ado, lets get into the wrap up of everything I read this last month.
Thunderhead by Neal Shusterman
This was the book that I finished at the start of the month, but had started in July. I adored this book and have so far adored this series. It's very quickly become one of my all-time favourite book series', and I cannot wait to read The Toll whenever it's out next year! I think that once The Toll is out I'll do a full review of the trilogy like I did with the Grisha trilogy.
Rating: 5 (or 6) out of 5!
Truly Devious by Maureen Johnson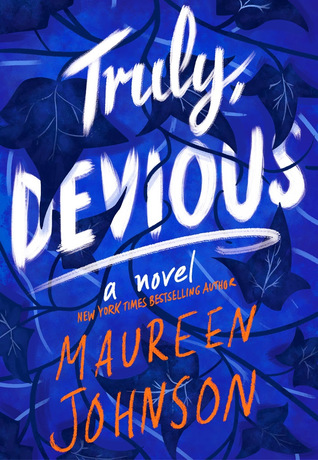 I started this book on the 1st of August, as soon as I had finished reading Thunderhead, and finished it the day after! I couldn't put this book down. I loved the mystery of this book, and the setting, which was split between the present day and the 1930s. Also, I thought the characters were quite well-written, and Stevie reminded me a lot of Nancy Drew, a character I loved reading about as a child!
Rating: 5 out of 5!
Dragon Rider: The Griffin's Feather by Cornelia Funke
I wrote a review on this book which you can find here, this was my first full length review, and the first review I wrote for my blog!! I liked this book, but I didn't enjoy it as much as I enjoyed Dragon Rider, but it was still a good book. I liked seeing more of the characters we'd met in the first book, and I found most of the new characters quite interesting and cool, especially the fantastic ones; for example, the Pegasus and the Griffins!
Rating: 3.5 out of 5!
Holding Up The Universe by Jennifer Niven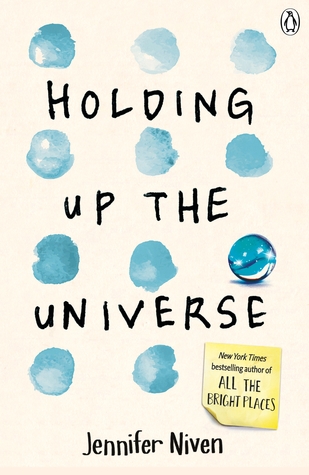 I adored this book! It was so sweet, and the characters were, for the most part, lovely. I loved seeing everything from both Libby's and Jack's points of view, and I had a lot of feelings about this book. I made notes on this book throughout and found myself rooting for Libby more than Jack, although one of my notes just said "Jack. Needs. To. Stand. Up. For. Himself. And. Others" which pretty much summed up my feelings towards his actions throughout the book. I liked the ending and would highly recommend it.
Rating: 5 out of 5!
In A Dark, Dark Wood by Ruth Ware
This was my first Ruth Ware book, but certainly not my last. I loved the way she wrote this book and will certainly be checking out her others. I loved the mystery and the thriller-y feeling of this book and found that I read it quite quickly as it was fast-paced. I think that the setting was great; a glass house in the middle of the woods – sounds beautiful yet extremely creepy, especially in the winter! There were a few characters who I didn't like from the start, but for the most part I didn't guess what was going to happen or who was the cause of different events.
Rating: 4 out of 5!
Shadow and Bone, Siege and Storm, and Ruin and Rising by Leigh Bardugo
I LOVE LOVE LOVE THIS TRILOGY.  I can't recommend it enough! I wrote a review on the whole trilogy which you can find here and have recommended it to quite a few people already. I liked the characters, the adventure, the world, everything. I loved Six of Crows when I read it earlier this year (as I've mentioned many times in my short time of blogging), so I knew I'd enjoy this trilogy as well. I can't wait to dive back into the Grisha universe in January when King of Scars comes out!
Rating: 5 out of 5 for the entire trilogy!
Nevernight by Jay Kristoff
Another book that I read this month that I loved. I wrote a review which you can find here. I loved this book and the characters; especially Mia and Mister Kindly, but you can read all about that in my review 😉
Rating: 5 out of 5!
As well as reading all of these books, I also read just over half of Godsgrave by Jay Kristoff, and I am loving it as well! I can't wait for Darkdawn to get a release date as I'll definitely be pre-ordering that. I also can't wait to see where the story goes from the point I'm at now (no spoilers, don't worry!)
Overall I think August was a very good reading month for me, I managed to get a lot read and had a lot of 4 and 5 star reads – many of which I've been anticipating reading for a while, and I'm so glad they're finally off my TBR! My total page count for August was about 3634 pages, which sounds nuts! I'm very glad I read this much this month! Here's hoping September is as productive reading-wise.
This month I also started this blog, and honestly I've had such a wonderful time writing, sharing my thoughts, and interacting with you guys. Thank you!
As always, here are my socials, feel free to follow/add me: