Hello all!
Happy October🎃!!
So I know I said I wouldn't have loads of time for reading last month as I was due to start my new job but that didn't happen (I start tomorrow now – yay!), so that statement may be true of this month now instead. I'll be reading on the train and on my lunch breaks etc, but I may not have loads of reading time. Nevertheless, I still have an October TBR to share with you all!
The first book I wrote down was City of Ghosts by Victoria Schwab, however I finished this not long before I started writing this post, so that's one book ticked off the list!
The rest of the books on the list I made I aim to read this month at some point (hopefully).
Illuminae by Amie Kaufman & Jay Kristoff
This is the book I'm currently reading now after finishing City of Ghosts. I've not started this properly yet but I can't wait to dive into it. It sounds so interesting and so different. The layout alone seems very intriguing and I can't wait to see how these two authors create a narrative through different mediums; like emails, lists, and interviews. I've always heard good things about this book and I'm glad to finally getting around to reading it as it's been on my tbr for quite a while.
Midnight for Charlie Bone by Jenny Nimmo
This is the next book I plan on reading in my Rereading Old Favourites series. This is the start of The Children of the Red King series which I read and enjoyed as a child. It's quite similar to Harry Potter (a school for those with special abilities) and yeah, I've not reread it in a long time and can't wait to see what I think of the first book now as an adult.
Vengeful by Victoria Schwab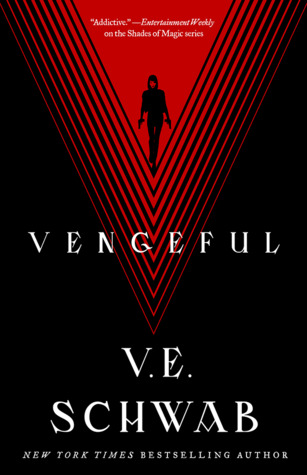 More Schwab? More Victor and Eli? Yes please! This book came out last month and I read Vicious last month in preparation but I'm yet to read Vengeful. I can't wait to read this book, and after reading five Victoria Schwab books in the last month I'm so ready to read more. I'm aiming to read all of her books by this time next year (sounds pretty easy to be honest – we'll see). I've heard great things about this book and I can't wait to read it!
I think that this is the most I may get to read this month as I'm hoping to be working most of the time. I may be able to get in some more books but I don't know how much more I'll get to read! However I'm ahead of my Goodreads reading challenge so a bit of a quieter month won't really affect that much.
So that's my TBR for this month. Have you read any of these books, what did you think? Are there any on this list on your TBR? What are you reading this month? Let me know!