Hello all!
I thought I'd just make a little post featuring some films that are based on books that I've read and enjoyed. This was sparked by me watching Dumplin' on Netflix, which is one of the films/books on this list. It made me realise that there are so many films out there that are based on books, some of which are actually quite good (although, we all know the book is usually better). Some of these are probably books that I've talked about before, but there may be some new books/films on here. Even if I've not talked about them before, I hope there are some books/films on this list that you enjoy, or that you want to read and then watch, or vice versa.
---
Dumplin' by Julie Murphy
So let's start with the film that sparked this post, shall we? I read Dumplin' over the course of August 2017, and it's a book that has stuck with me ever since. Not only because of when I read it, but also because of the story and the events of the book. I feel the same way after watching the film as well. I knew the story already, but still found myself being amazed by some of the things that happen in it. I like how much of the book was kept for the film, and I really liked the actors they chose for the different roles. I think that this was one film adaptation of a book that has done really well, and has managed to keep the essence of the original text.
A Monster Calls by Patrick Ness
This book was incredible. Honestly. It was absolutely amazing. This was such a quick read but it had so much depth, so much heart. This book had so much in it, that it seemed it would be impossible to get it all into two hours of film. But they managed it. When I watched the film, I had just finished reading the book, and I was amazed at how much of the book was actually in the film. I'm sure 90% of the book made it into the film. I was genuinely shocked. I think the filmmakers did an amazing job with this film. I cried reading the book and I cried watching the film. It was beautifully shot and beautifully made. It's been nearly two years since I read/watched this and I still can't get over it. One day I will rewatch and reread it, but I don't think I can at the minute. Nevertheless, it's another book and film that I highly recommend to anyone who hasn't read or seen it.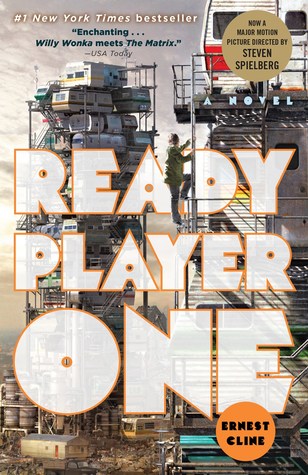 Ready Player One by Ernest Cline
I loved this book so much. I know I've mentioned this book so many times, but I loved it. I couldn't put it down once I got into it. It was a great form of escapism when I was coming to the end of writing my dissertation. I thoroughly enjoyed this book, and likewise I enjoyed the film. I remember going to see this with one of my best friends and both of us said the same thing at the end: that we wanted to see it again straight away. This isn't something I usually feel after a film, but with this I loved it and wanted to spot all the little references in it. Also, I love the film's soundtrack; both the original score and the 80s classics throughout! I loved this film, and I loved this book. I'm so glad I read it, I just wish I'd read it when I added it to my Goodreads TBR back in 2014!
Harry Potter and the Prisoner of Azkaban by J.K. Rowling
Now would it be a list-based post written by me if a Harry Potter book wasn't included? There is no doubt about it, this is my favourite Harry Potter book, and my favourite Harry Potter film. I love everything about this book, especially the relationships we see being formed. I love seeing Harry getting to know Remus and Sirius properly, and seeing his reaction to Sirius' offer to live with him. This is also my favourite Harry Potter film because it has a different feel to all of the other films. It's not as dark and it shows more than just Harry's battle against Voldemort. I've just always enjoyed this book/film, and I think it'll continue to be my favourite, regardless of how many times I'll read it.
---
That's it. That's my list (at the minute any way). I know there are countless other books and films that I could add to this list but at the moment these are the four that I could think of. If there are any you think should be on the list then let me know, I'd love to make another of these, or even do a book to movie review at some point.
Follow/add me on: Twitter Instagram Goodreads