Hello all!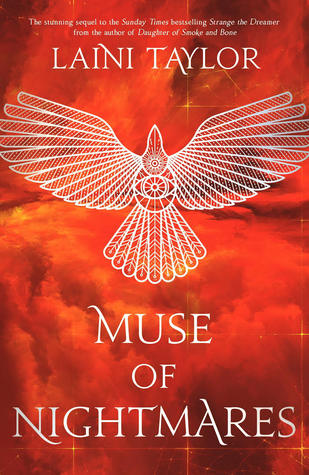 I've managed to stick to my word, and so far I've written a review for each book that I've read this year (hurrah). I'm going to try and keep this up! This review is of Muse of Nightmares by Laini Taylor, which (unsurprisingly) I rated 5/5 stars.
I don't think I wrote a review of Strange the Dreamer but I can tell you this; I absolutely adored that book, and I was very excited to read Muse of Nightmares. I got the Illumicrate special edition box for Christmas this year from my dad and they're just such gorgeous books – I can't wait to have room on my shelves to display them!! Anyway, on to the review!
Now, I can't give too many details on this book as it is a sequel but I can tell you this: I love this book and the character development from the first book. I really loved seeing how the character dynamics changed from book one to book two, and seeing how the world and their stories developed. I think that Laini Taylor's writing of all of the characters was beautiful, and I know in the future I'll be going through the books and highlighting quotes and moments in the stories that I loved, especially some of the bookish quotes surrounding Lazlo and the library.
The world building in the first book blew me away, so seeing more of it in this book was amazing. I thoroughly enjoyed the setting of the book, and didn't feel like there were too many locations or characters for the scenes, something I've found with sequels in the past. The writing in this book really sucked me in and I found myself immersed in the story and the characters very easily. I did listen to the audiobook of this as well as reading my physical copy of it, which I found was a great way to read. I could listen to the audiobook on my walk to work, on the packed train, and on my lunch, but then I could read the physical book before work with a coffee, and before bed. I just had to remember to mark where I was currently up to in the book/audiobook so that I wasn't rereading parts or missing chapters.
I think that overall this book was incredible and I'm so glad I've now finally read both Strange and Muse. I think that Laini Taylor's writing is gorgeous and I cannot wait to read her other books in the future, especially the Daughter of Smoke & Bone trilogy. I know my mum read the trilogy in the past and she enjoyed them so I'm excited to see how good they are and how different they are to Strange the Dreamer. 
Have you read Strange or Muse? What did you think of them? Let me know!
Here are my socials: Twitter Instagram Goodreads