Hello all!
I've finished another book this month (I know, I didn't think I'd read this much this month, but I've surprised myself)! The next book I'll be reviewing is…This Savage Song by the incredible Victoria Schwab. Yet again, this was a 5/5 star read for me, I don't think I've rated any of her books any lower yet to be honest, and I don't think I will. She's become one of my favourite authors and I can't believe it took me so long to read one of her books, and now I've read six in the last couple of months! Anyway, I'm rambling, let's get on with the review!
---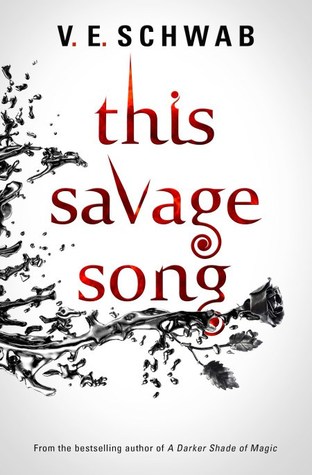 The first thing I need to mention is the quote at the start: " Plenty of humans are monstrous, and plenty of monsters know how to play at being human." A quote from none other than Victor Vale (one of the main characters in Vicious by V.E. Schwab, here's my review for that incredible book and its sequel). The only note I wrote for this when I was reading was: "Victor Vale quote at the start!!!!!!!!!!!" which  pretty much sums up my thoughts on reading that in the book. I thought that was brilliant that Victoria Schwab quoted her own character from another book, and it was a well-fitting quotation.
So in this book we have three different types of monster; the Sunai, Malachai, and Corsai, each one is different and each one is terrifying in its own way. I won't spoil anything but I loved seeing the encounters the characters have with each type of monster, and how they are all different, but some are more human than others. Each monster is born after acts of human violence, and in a war-torn city there are monsters and humans galore. I think that Schwab has created some pretty scary creatures that you definitely would not want to encounter.
The setting of this book was so well-done. I loved the way that Schwab describes the broken V-City (Verity City), the North and South cities, and the different zones (red, yellow, and green) which determine how safe each area is from the monsters, although no area is 100% safe. I thought the divide in the city was so well-done, showing the divide between supporters of the Harkers and supporters of the Flynns.
Speaking of the Harkers and Flynns, lets talk about the characters. Kate Harker is the only heir of Callum Harker, the ruler of the Northern side of the city, who makes people pay for protection against the monsters, and lets said monsters roam. I wasn't sure what to think of Kate at the start but she quickly grew on me. I loved that she was such a strong character and that stood up for herself and what she believed in, regardless of what her father thought. I also loved that she was such a good friend for the majority of the book. There are times when she could have easily left August but she didn't. August was a lovely character too. He was so nice, and I love how kind he was, something that you wouldn't expect at first from his character. I also loved his love for music and for playing music. As someone who has always loved playing music, and wishes she had more time to do so, I loved it. I would love to hear what August's song sounds like, although I know the outcome of the songs, I'm sure it's still beautiful. Again, he was a good friend to Kate even in his darkest hours. I loved that the book focused on their development as characters and as friends, and I can't wait to read Our Dark Duet.
All in all I can't think of a single negative point about this book. I read it unknowingly fast and I honestly thought it was brilliant. I'm very excited to read Our Dark Duet once I've finished King of Scars (AHHHH I KNOW IT'S FINALLY HERE!). And surprisingly I've managed to stick to my promise of reviewing every book I read this year, although we're only a month in!
Have you read This Savage Song? What did you think of it? Let me know! 
Here are my socials: Twitter Instagram Goodreads