Hello all!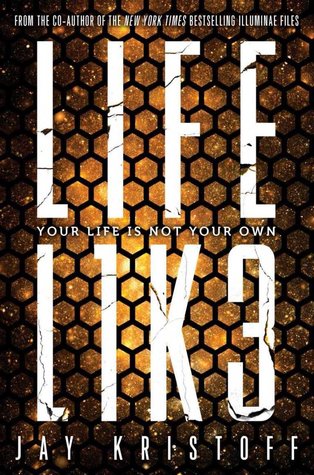 I listened to the audiobook of Lifel1k3 by Jay Kristoff this month and I was really impressed with it!
I wasn't 100% sure what the book was about before I started it if I'm being honest. I hadn't heard too many reviews of the book, only that it was good, and I think that was the best way to go into this. I liked that I wasn't sure who the characters were, or what the full premise of the book was.
This book is a science fiction young adult book, featuring "Lifelikes" who are androids, two best friends named Eve and Lemon Fresh, a Homunculus called Cricket, all on a floating Junk yard. This book was very fun to listen to. I think the narrator (Erin Spencer) was excellent, she even put on different voices for the different characters.
I thought the story was great! I found it easy to follow and the characters were really well-written – I think my favourite character was Cricket! I liked the scenes with Lemon, Cricket, and Eve, especially at the start of the book. I think that from the get go this book was exciting and fast paced. It never felt like it was getting slow or dragging. I'm not sure if this is down to the great story or Jay Kristoff's excellent writing style. I've not found a -single book of his so far that I've not enjoyed.
I think the character development in this book was great too. At first I wasn't sure what to think of Lemon Fresh but her character grew on me, she was great fun, and such a strong character by the end of the book. Likewise with Eve. Eve goes through a lot throughout the course of this book and it was great to see her development throughout. We saw so many different sides of her character, and I think that was great to see.
This book was a good start to the series, and I'm looking forward to reading Dev1at3 in May. There's a lot of Jay Kristoff books I still need to read, but so far he's not disappointed me.
Have you read Lifel1k3? If so, what did you think? Let me know!