I saw the Magical Readathon (hosted by Book Roast) being mentioned on Twitter during summer last year and I was intrigued, however I discovered it though during its "NEWTs" challenge, rather than during the "OWLs". I completely forgot all about it until I was at the Victoria Schwab book event recently, where I met a lovely girl called Naomi. We'd both come to the signing on our own so got chatting about books, and she mentioned this readathon. After our chat I thought a bit more about it and decided I was going to take part this year, which is where this post comes in.
The general idea of this readathon is that you choose a career and read books based on the prompts for each subject needed for the career. I've chosen to become a Magizoologist, which requires that I "study" Care of Magical Creatures, Charms, Herbology, and Potions. Each subject has a different prompt which indicates what you need to look for when choosing each book. This readathon runs throughout the month of April and I can't wait to participate!
---
The subjects and prompts:
Care of Magical Creatures – Land animal on the cover
Charms – Age-line: Read an adult work
Herbology – Plant on the cover
Potions – Next ingredient: sequel
---
For Care of Magical Creatures, I've chosen to read Days of Blood and Starlight by Laini Taylor. The edition I have on the Kindle of this has a lion on the front, which is definitely a land animal, although does this count as it look a bit like a door knocker? Ah well, it's still a lion and I'm really looking forward to reading this book. I loved the first book and I can't wait to see what happens next.
For Charms, I've chosen to read Daisy Jones and the Six by Taylor Jenkins Reid. This is a book I'm so excited to read this book after reading Evelyn Hugo last month! This is such a gorgeous book as well, and I managed to pick up a signed copy when I went to pick up my collector's edition of A Gathering of Shadows last week. I'm intrigued by this book and I'm excited to get stuck in!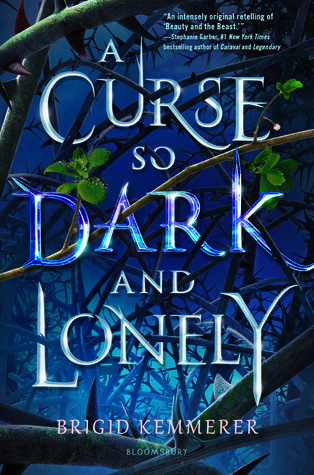 For Herbology, I've chosen A Curse So Dark and Lonely by Brigid Kemmerer. I've heard nothing but great things about this book and I've seen people talking about it everywhere. From what I've heard, this is an excellent Beauty and the Beast retelling, with an interesting setting and narrative. I'm excited to read this, and will hopefully get to it in my week off!
For Potions, I've chosen Gemina by Amie Kaufman and Jay Kristoff. This is the second book in the Illuminae files, which I started reading last year. That book took me a while to read but I really enjoyed it once I had. I'm looking forward to seeing what happens next. I've had Gemina downloaded on my Kindle for so long, it's about time I finally read it!
---
And that's my final (for the minute) TBR for the readathon. I'm really looking forward to taking part in this and I can't wait to read all of these books in April. I've got a week and a half off work so I'm hoping to get quite a bit of reading done.
Are you taking part in any readathons this year? Are any of these books on your TBR? Let me know!
Here are my socials:  Twitter Instagram Goodreads