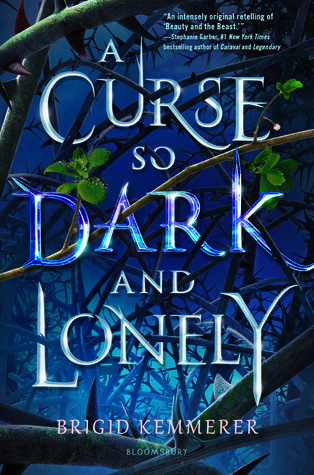 This book is a retelling of Beauty and the Beast and it is wonderful. We have two main characters, whose point of view the story is told through: Harper, from DC, whose family is in trouble, and Rhen, from Emberfall, the cursed prince.
---
I wasn't really sure what to expect from this book. I'd heard nothing but good things about it, but I've never really been interested in retellings or read many that have kept my interest. This book however changed all of that. I loved it!
I loved the dual perspectives throughout the book; hearing the story from both Rhen's and Harper's perspectives was interesting, and helped establish the story a lot. We got to see the inner workings of their minds, rather than just being told that they thought something. I loved seeing the evolution of their relationship, which definitely had its ups and downs. I also loved seeing the development of the two main characters. At the start, Rhen is very closed off to Harper, but slowly she manages to crack his hard exterior. Harper is a very determined and outgoing character. I loved how strong she was, letting nothing stop her from defending herself, and other people. And then there's Grey. He is so protective, but it's understandable. He's a lovely character, and I loved seeing difference between him being Rhen's guard, to his friend, it was lovely to see different sides of him. He went from commander to friend, and I liked seeing the change in his character.
I loved the setting of this book too. Brigid Kemmerer built an interesting world in Emberfall. I loved the castle; the magic of it, the way it was described, the smells, the sounds. It was all so well-written. I loved experiencing it for the first time alongside Harper. Emberfall is everything I hoped it would be, and more; it was enchanting and strange at the same time. I can't wait for the sequel to this book, which is coming out next year (I think).
I bought this book on a whim, then chose it for the OWLs Readathon as it fit the prompt for Herbology (Read a book with plants on the cover – I think), and I ended up really enjoying it.
---
This review isn't overly long, but it just about sums up my thoughts: I loved this book, and I can see why its been so hyped recently. I cannot recommend this book enough, especially if you enjoy fantasy retellings, or want to try them out!
Have you read this book yet? What did you think? Let me know!
Here are my socials:  Twitter Instagram Goodreads