Summer is fast approaching. The days are getting longer. I can go from reading inside to reading outside (weather permitting…this is Wales after all). Whilst I'll still be working full time, I do have 2 weeks booked off, which I can dedicate to relaxing and reading.
---
The first book on my list is Red Sister by Mark Lawrence. I've only heard excellent things about this book and I can't wait to see what all of the hype is about. The premise reminds me a bit of Nevernight, so I'm excited to read this one!
Next I want to read Red, White and Royal Blue by Casey McQuiston because it sounds like a nice quick read, and I've only heard great things about it. It sounds very sweet and like the perfect summer read. So many people have said that this is excellent, and that they just wanted to read it all over again. I'm excited to see what I think!
I've just added Red Rising to my Kindle, so I'll hopefully be picking it up soon. I just watched Piera Forde's announcement for her readalong of the series, and whilst I'd love to join in, I think I've got enough on my plate at the moment, without adding readalongs to my ever-growing schedule.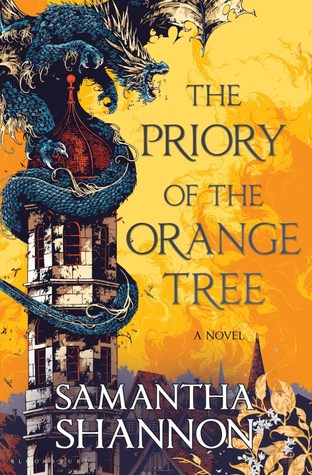 The Priory of the Orange Tree is also on my list for the summer. I've only heard great things about it, but the size of it is daunting. I'm really looking forward to it though! I think I might read this one on my holiday (in two weeks!!!) as I'll have loads of time, and I've got both the physical and paperback of it.
The Paper & Hearts Society by Lucy Powrie is next up on my list. I've heard nothing but great things!! Everyone who's read and reviewed it has raved about it, it honestly sounds like the perfect summer read about bookish people!
The last book I definitely want to read is The Wicked King by Holly Black. I read The Cruel Prince a couple of months ago and I enjoyed it (although I'm still not a fan of Cardan). I reckon this will be another fairly quick read, as I flew through the first book!
I'm also going to try and reread Midnight for Charlie Bone by Jenny Nimmo. This series was one of my favourites as a child and I've been meaning to reread it for so long! I'm taking the whole series with me when I move, so I'll have even more of an excuse to reread it as they'll be there with me!
---
I've just realised that four out of the seven books in this list have colours in the title; it'll be a very colourful summer, I'm sure! I know a lot of these were on my June TBR list, but these are the ones I really want to read over the next couple of months, not just in June. I reckon it's doable, even though I've not read much these last few weeks.
I may not be posting as regularly over the next couple of weeks as I'm moving into a new flat on the weekend, and probably won't have internet for a couple of weeks.
Have you read any of these books? Are any on you TBR? Let me know!